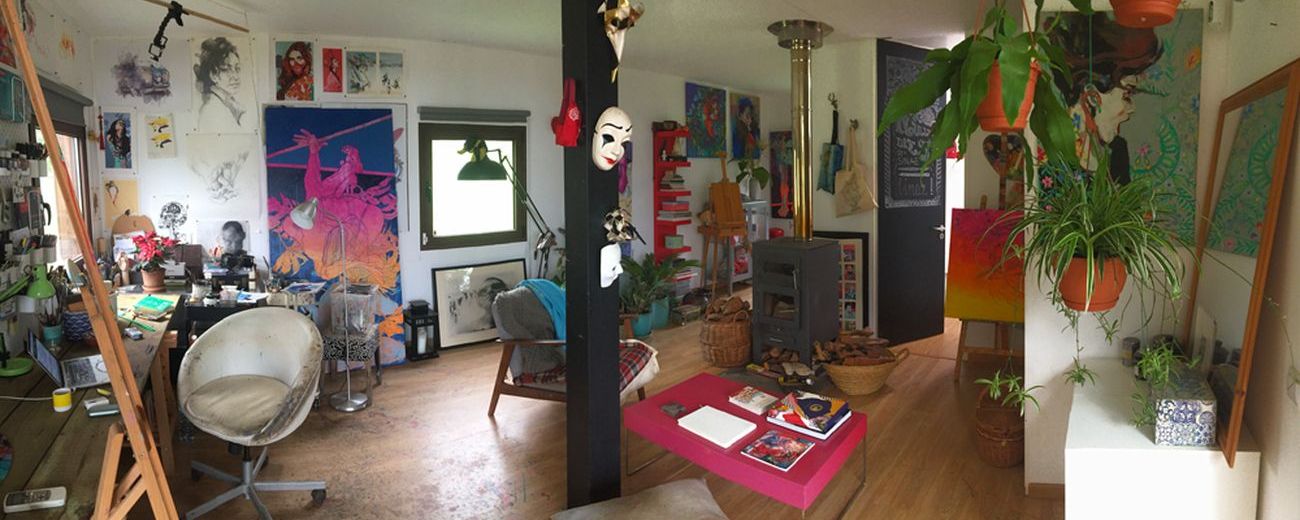 My Studio
For years my studio has been a borrowed place. A table borrowed from the kitchen, a bed borrowed from a bedroom, a floor in the living room. I have never complained about working at home, on the contrary – you can always check what's new in the fridge, and when working on less ambitious projects – do laundry, wash windows or even take a long bath in the middle of the day. The truth is that I work a lot and I don't often take on obligations that are not attractive to me – so the windows were always kind of dirty. In addition, the studio is a workspace  – a place where it does not matter if you splash paint on the wall, where the floor should be in multicoloure, and the bathroom sink does not stay white for long. At the same time, I would like to point out that stains of paint on the floor do not mean dirt – I like to live and work in a clean and tidy environment.
After moving to Portugal, we've decided to build a studio separate from the house. These two buildings are only a few dozen meters away, so I could always pop into the house and clean these unfortunate windows …
So I have my own splashing area, built by a fantastic team from JULAR, a Portuguese family-owned company that deals with wooden constructions. The guys came over, took measurements and… it was ready. Bitch, I was gagged!
For the last three years, I've been starting my day here with coffee. I work from morning to evening, every now and then letting my eyes rest with the soothing views of the Alentejo hills stretching to the horizon. And when I feel a little hungry, I open the cupboard with a hidden supply of chocolate.
Here the brushes do not dry out and the easels are always ready. Here my dogs are taking afternoon naps, the gramophone plays music in the background and I play with colours. It rarely happens that I don't visit my studio every day – maybe because I like my job. Even when I have guests, my hands itch to paint something.
From time to time I hear how lucky I am – yes, I am a happy person, I am surrounded by amazing  people, I live in a wonderful place on earth, I have constant access to chocolate and good wine. But having your studio has nothing to do with being lucky, it is the result of my hard work and the fact that somewhere, there is someone who wants one of my paintings on the wall. Such a circle – I live in a place that inspires me to create paintings, the sale of which allows me to be here. My place on earth that I will selfishly claim.
It was not without reason that the Romans called the area of ​​present-day Portugal Lusitania. The light here is ideal for work, the air has very little pollution . Perhaps that is why my paintings are more colourful and expressive. Living in Poland, I painted differently, and after moving to the Middle East, my perception of colours was also different – now, after returning to Europe, I am the most 'at home', which means that working several hours a day is not really work, but a great pleasure. And ideas for new images keep multiplying in my head. Like rabbits once brought from Europe are Australia. My only complaint is time- if a day had 30 hours, I would be a very happy man.